Amami Card Service Overview
Target payment method
The following cards are eligible for cashless shopping with electronic money Amami Yutaka.
・Amami card
Fee
2.6%  * New member stores readjust
Subsidy for member stores
・Initial introduction fee / payment terminal assistance
 We will provide payment introduction costs virtually free of charge.
 * Electronic money payment terminals will be borne by the government and the green store by "cashless consumer return registration".
 * If you cancel the Amami Card member store, you will not be able to use the terminal.
・Monthly fee
 It can be used for a total of about 1,000 yen per month, including a communication fee of about 800 yen (varies depending on usage conditions) and an app usage fee of 200 yen per month.
How to register
●Those who are considering joining a member store
Application / Inquiries for Membership Membership: 0997-53-7087
Reception hours / 9:00 to 17:30 (excluding weekends and year-end and New Year holidays)

●Yutaka Amami "Consumer" cashless consumer return business
https://www.youmecard.jp/yume/cashless/amami.html
Amami Card Member Site (Mobile Page)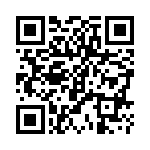 You can access the member registration screen of the mobile site from the 2D barcode (QR code) on the left.
* Packet communication charges will be incurred for using the mobile site.